With 'Inside the Collection' we interview sneaker enthousiasts that have adopted streetwear culture beyond the norm. We take a look in their houses and at their sneaker collection to see how their passion for sneakers is represented in their living space. Missed the previous 'Inside the Collection post? You can find it here! Next up: Jeroen Friso.
Jeroen Friso is a 23 year old graduate student, who started to collect sneakers about 7 years ago. His sneaker collection has been featured in big blogs like Hypebeast, Praise Mag, BLKVIS and 24K Mag – resulting in almost 12k followers on his Instagram page. He completed his Bachelor last year and is currently doing his Master's in Economic Geography. Jeroen used to play basketball in the highest league in The Netherlands. Due to his study and moving to a different city, he had to give up playing ball at that level. Besides basketball, sneakers and streetwear, he is really passionate about supercars and photography.
How many pairs of sneakers do you have and what is your biggest grail?
To be honest I lost count, but I do know that I went over a 100 pairs a while ago. Not all of them are exclusive pairs though, I also have quite some basketball sneakers and more casual shoes for certain occasions. I do try to sell some sneakers every now and then before getting a new pair, as it is getting pretty much out of control at this moment.
My biggest grail? I think that question is way too difficult to answer. My biggest grail in my current collection is probably either the Adidas Yeezy 350 Boost 'Turtle Dove' or a pair that I acquired recently: The Off-White x Nike Air Jordan 1 'UNC'. Both of these pairs are special to me in their own way. The Turtle Dove is special to me because it was the first 350 model to be released by Kanye after he joined Adidas and in my opinion it's still one of the most striking sneakers. I think it marked the beginning of a new chapter in the whole sneaker community, which now – due to the massive number of Yeezy's that are currently releasing – has died a little. The Off-White x Nike Air Jordan 1 'UNC' is just insane in every way. My favourite Jordan brand silhouette through the eyes of the creative genius Virgil Abloh, to me that is what the AJ1 'UNC' is. I am not going to lie and tell you it's my favourite colorway out of the three Off-White AJ1's that have been released, but it is without a doubt my favourite silhouette of all the Nike models Virgil put his hands on. That's why I was literally screaming and jumping around the house when I got an email saying I won the raffle for those [haha].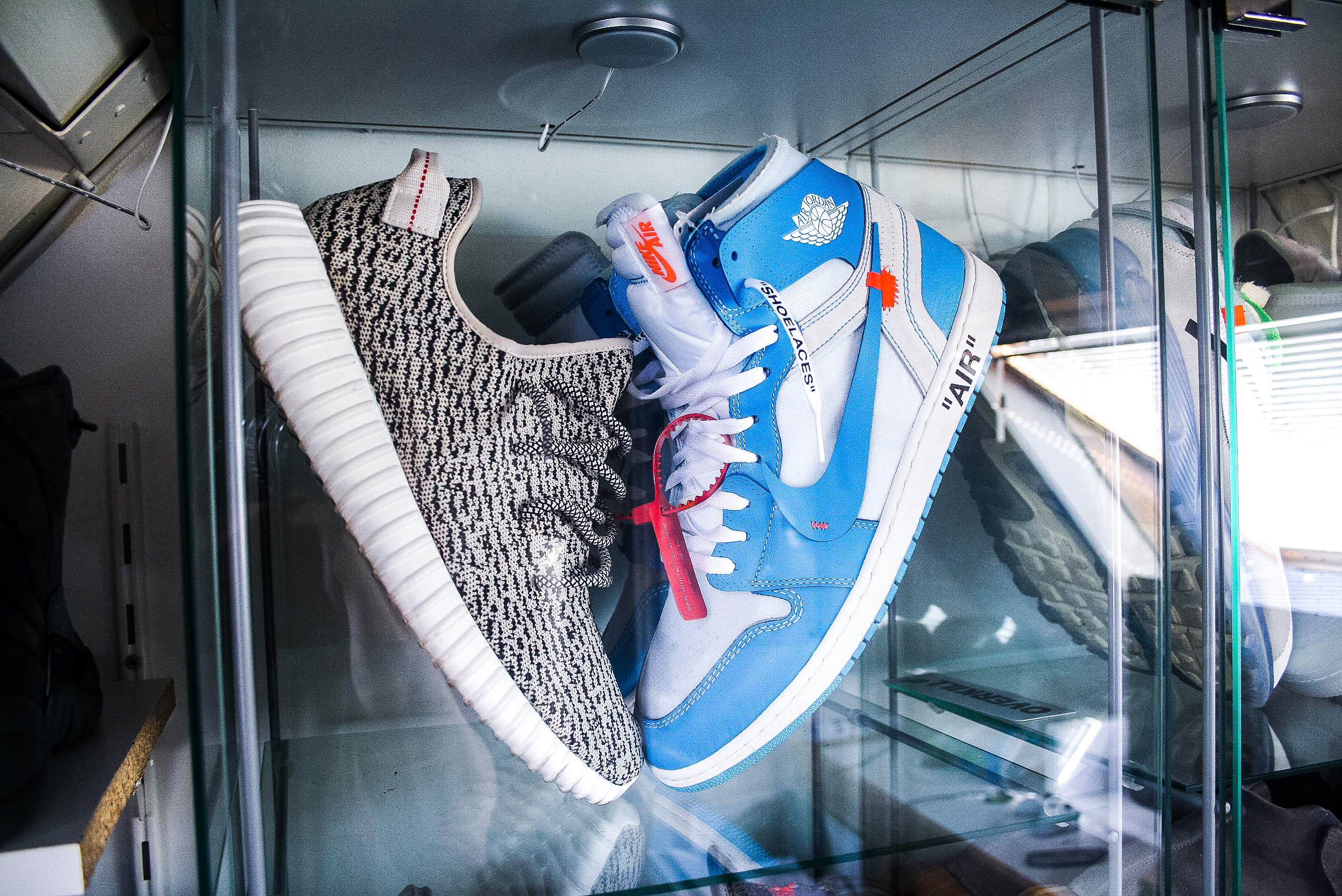 When did you start collecting sneakers and what was the pair that got you hooked?
I started collecting sneakers around 7 years ago. Why? Simply because I had the money. It was the first year I had a job with a decent pay check and I literally spent like 90% of my money on kicks. If I have to point out one pair that got me hooked, it would probably be the Air Jordan 1 Retro Hi Premier 'Gucci'. As you might know that wasn't even a special pair at that time, but it was the first pair I bought from my own money and soon after, a lot of more followed [haha].
How do you store or display your sneakers?
For about a year now I have my own 'sneaker room', which was a dream coming true for me. Within this room I have one wall filled with sneakers. This wall has a big cabinet in the center displaying my favourite pairs, and on both sides of the cabinet I mounted shelves. I sorted the pairs on these shelves, with on the left all my Jordan's and on the right a mixture of Adidas and Nike sneakers. Generally I also tend to keep all the original boxes of the shoes, and I stacked them on the left side of the room and on the floor beneath the cabinet and shelves. I try to avoid keeping my sneakers in the boxes – which I heard a lot of sneaker enthusiasts do – because I like to look at them [haha]. Besides the sneakers and the boxes, I have an Xbox and TV in the room as well. So I would say that I build my own 'man cave' [haha]. I also have some cool plush toys like the Uniqlo x KAWS snoopy and the Uniqlo x Takashi Doraemon plush.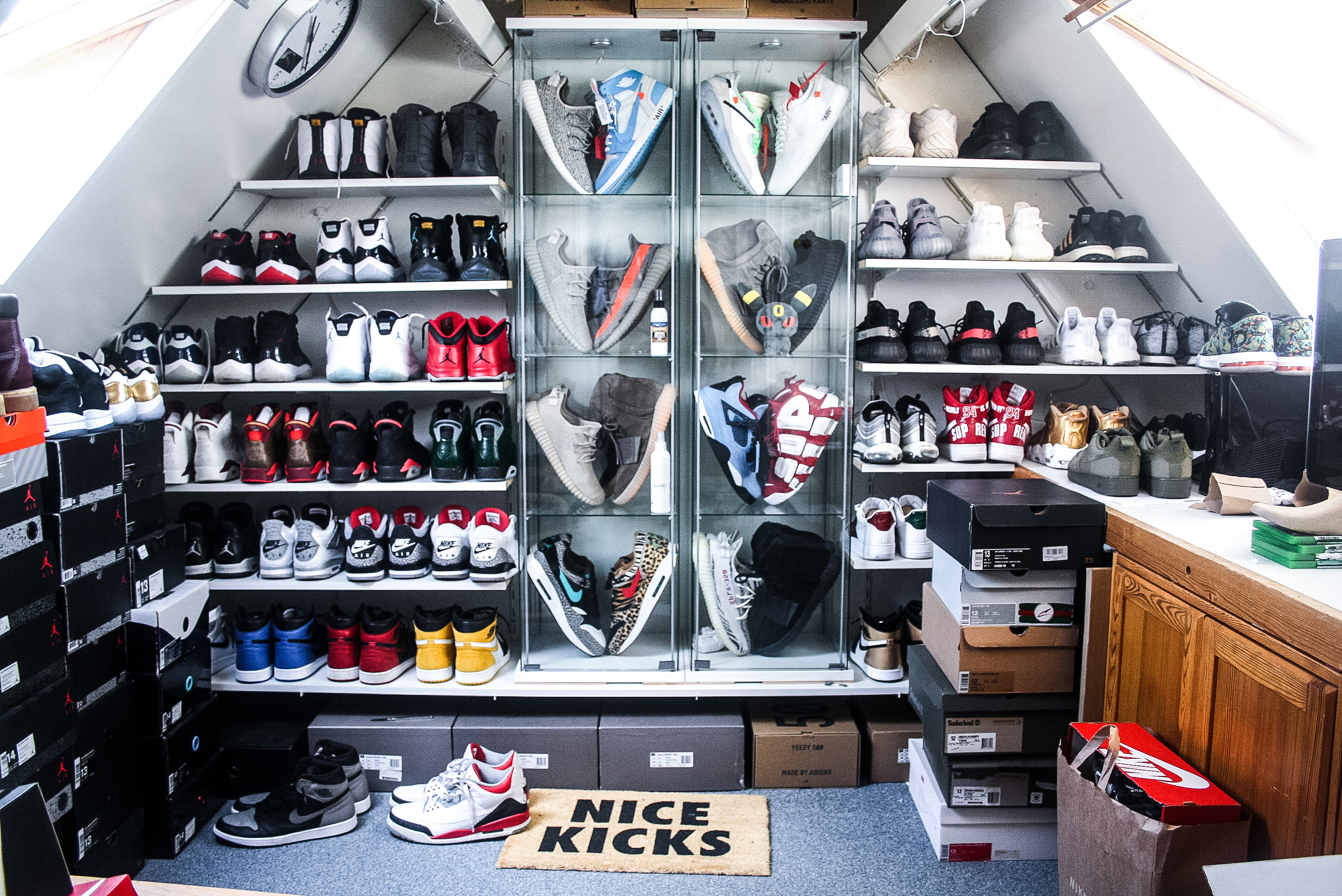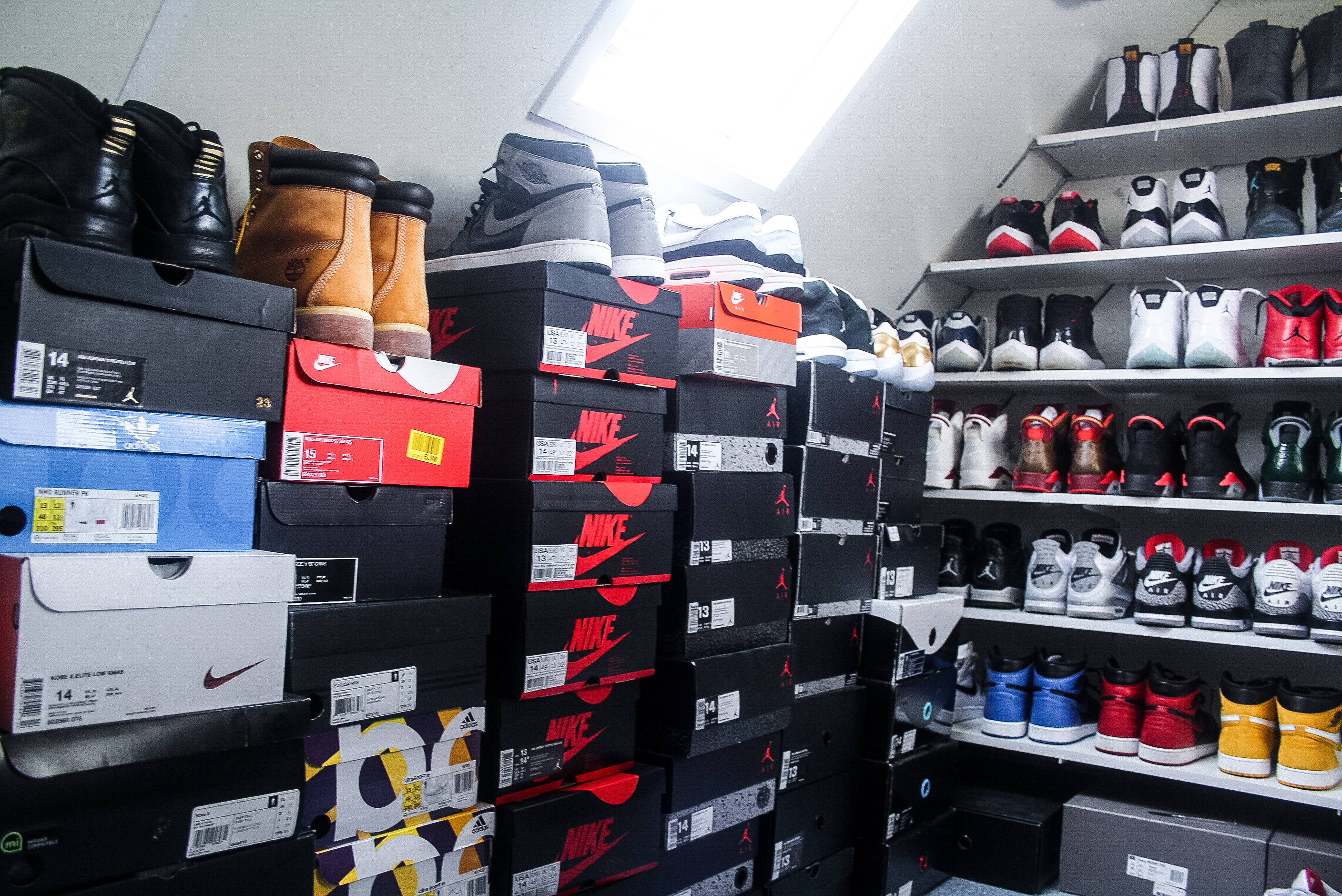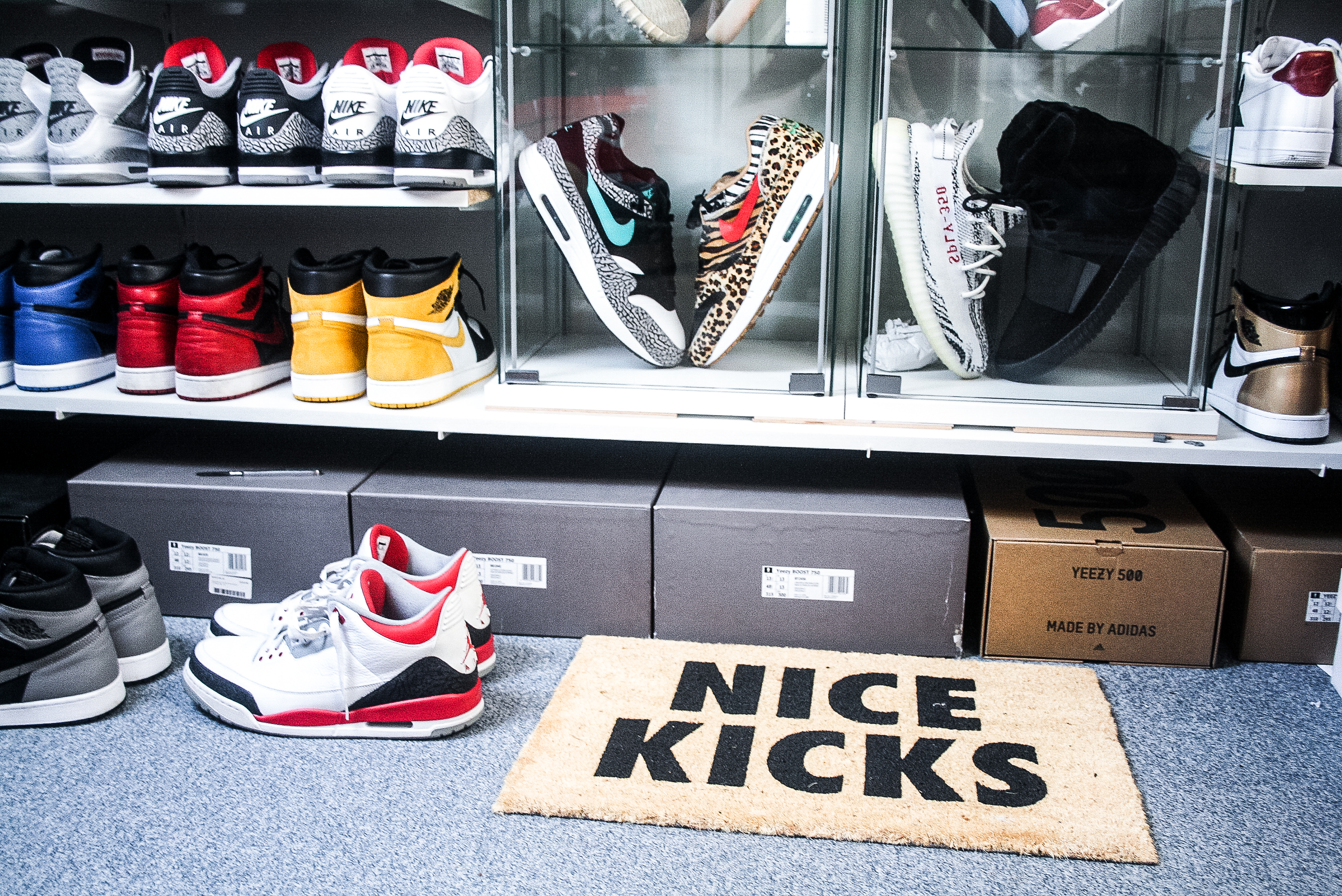 Do you have other objects or places in your house that is inspired by sneaker- or streetwear culture?
I wouldn't necessarily say there are other rooms in the house that are really inspired by sneaker- or streetwear culture, maybe my bedroom partially. Because that is where I keep my streetwear clothing from brands as Supreme, Bape, Billionaire Boys Club & Off-White. As you can tell I am quite a Hypebeast but I don't usually blindly buy anything that says Supreme. I buy what I think looks dope or what I can style the best with what I already have. I also got some Supreme accessories in my bedroom and some posters as well! I don't really like the way I displayed those though, I have to find a better place for that.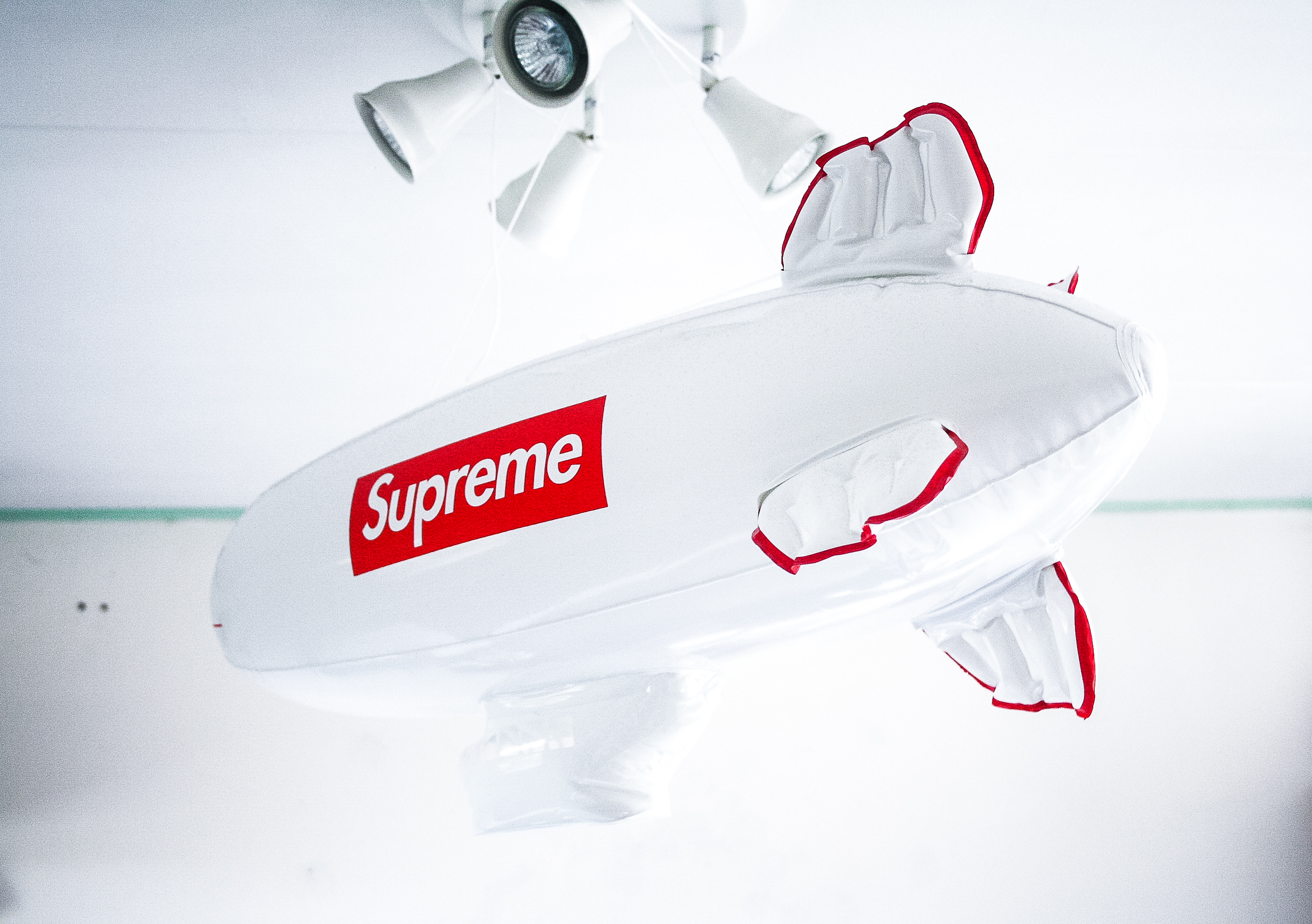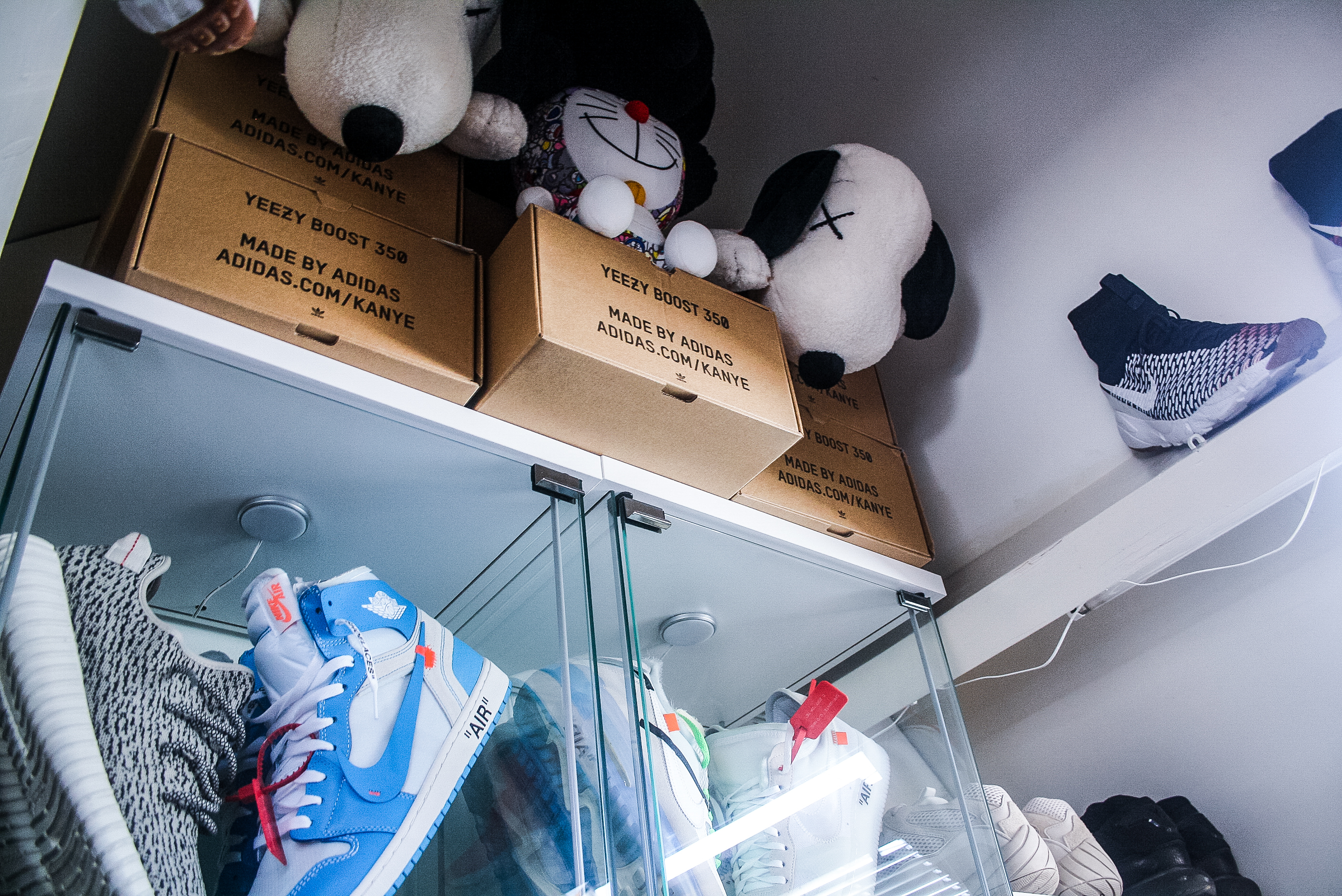 Last question: Nike or Adidas?
'Nike boyz, we don't do three stripes!' [haha] No I am just messing – but on a serious note – I would definitely pick Nike. First of all, Nike as a brand started it all for me. Also I think Nike has more attractive models and I feel like Nike has a richer history in basketball, partially because of Jordan Brand of course. Don't get me wrong, Adidas has some nice silhouettes as well but in general I think Nike has more attractive models and a lot more variety.
Thanks Jeroen! Make sure to check out his Instagram page and give him a follow. Want to be featured in 'Inside the Collection' as well? Drop a line on this page and we will be in touch.