With 'Inside the Collection' we interview sneaker enthousiasts that have adopted streetwear culture beyond the norm. We take a look in their houses to see how their passion for sneakers is represented in their living space. Missed the previous 'Inside the Collection post? You can find it here! Next up: Rik van Doorn aka 'The Dutch Asics guy'.
Rik van Doorn is a 28 year old graphic designer, chef and sneaker collector. He grew up in a time when sneaker culture was upcoming, and got his first pair of sneakers at 10 years old. At 16, Rik started to buy his own sneakers, and that's when it all started. While he started with collecting sneakers from Nike, Kangaroos, Reebok and other brands, his focus nowadays is solely on Asics, Asics GEL-Lyte III's to be more specific. He currently has 1 pair of Nike Air Max 1's and over 50(!) pairs of Asics. Resulting in his nickname; 'The Dutch Asics guy'.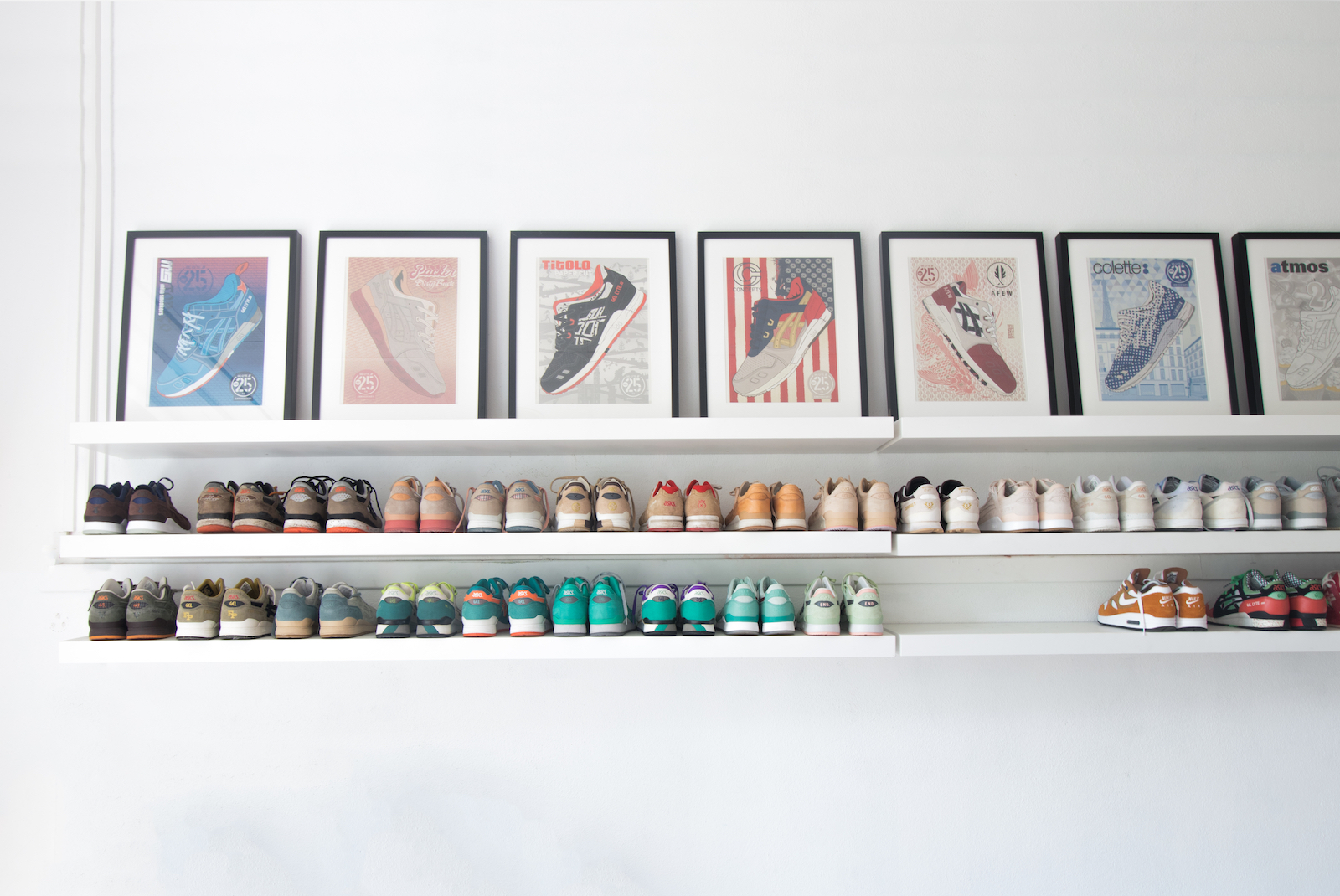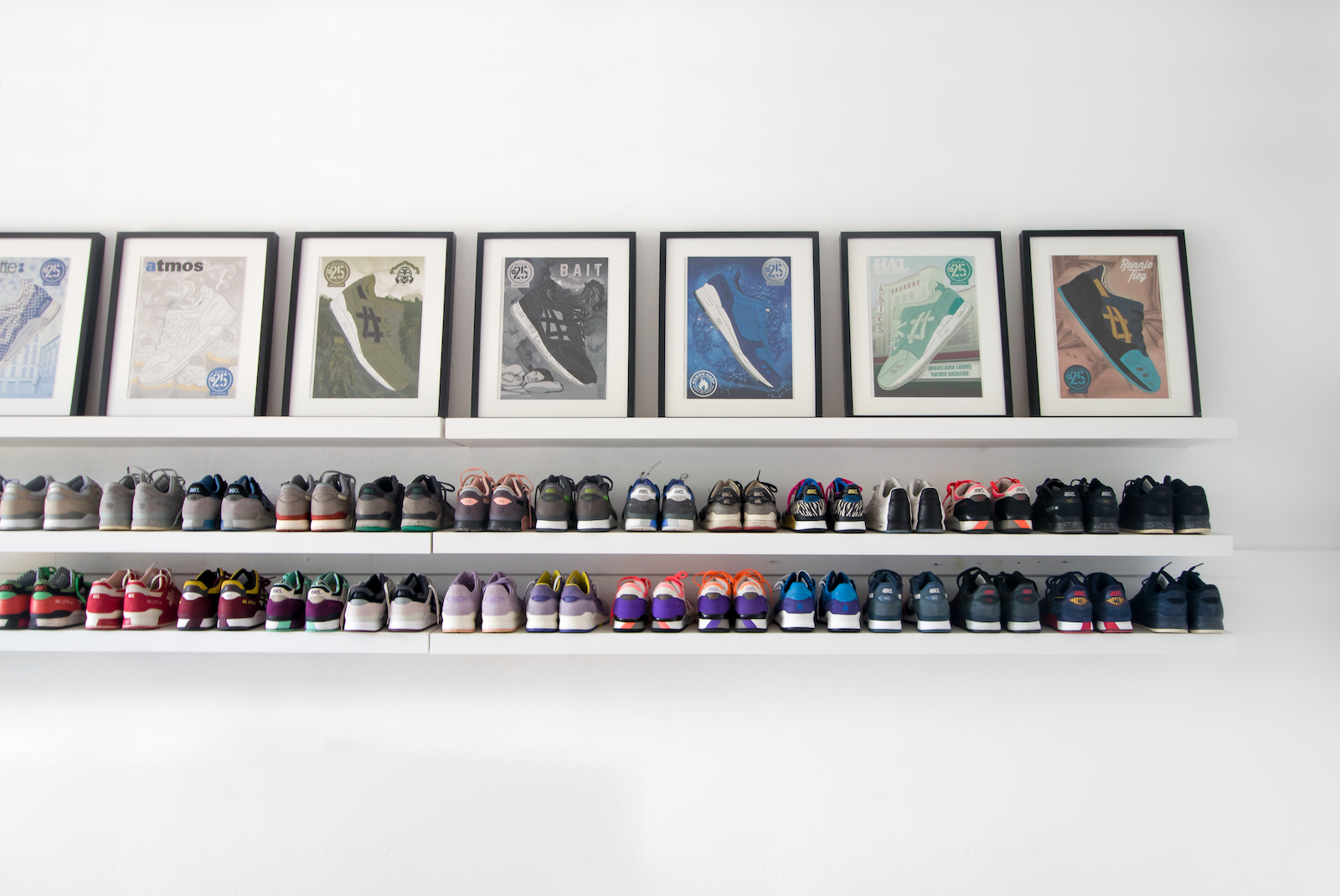 How many pairs of sneakers do you have and what is your biggest grail?
Currently my sneaker setup consist of 53 pairs of Asics and one Nike Air max 1. My preference goes to Asics collabs, but I also have a few general releases and sample pairs. Earlier on I had kicks from Nike, Kangaroos, Reebok, Saucony & New Balance as well, but because I rarely wore them – I sold them. Now, my main focus lays on GEL-Lyte III's. No matter how cool other Asics models are (Saga, GT-2, GEL-Lyte V and so on) I need to limit myself a little. It's hard to name one pair as my holy grail; so here's my top 3: 
Asics x Colette x La MJC "Sold out"
When Colette and Michael La MJC are doing a collab they always put out straight fire. I'm really loving the 90's inspired and minimal colorway. After years of searching I finally found them in a pristine condition for a steal price.
Asics Made in Japan "vegetable tanned leather" 
In 2015 Asics announced it was releasing the Made in Japan (MIJ) Veg. It was the most premium and highest quality leather I've ever seen on a sneaker. They launched the pair during a special event in Sydney with 'mister GEL-Lyte III' Shigeyuki Mitsui himself. It wasn't even a question for me whether I would attend the event or not, even though it took place on the other side of the world. But just when they dropped the ticket sale online I was broke af. So I felt really humiliated at that time.
Asics GEL-Lyte III "Citrus" OG 
This was the first ever GEL-Lyte III model made in 1989 (my birth year) and eventually dropped in the market in 1990. Mr Mitsui was the genius behind the model and the "citrus" colorway was the first one he designed. In 2017 I was able to find a pair with original box, booklet and almost no glue stains. I think these really characterise Asics – that even after 25 years you can still rock these beauties without being afraid the sole comes off. 
Honourable mentions are the Soldout samples (with perforated toebox) and some general releases Asics did in 2010 as an Easter pack which were inspired by the Soldout collab.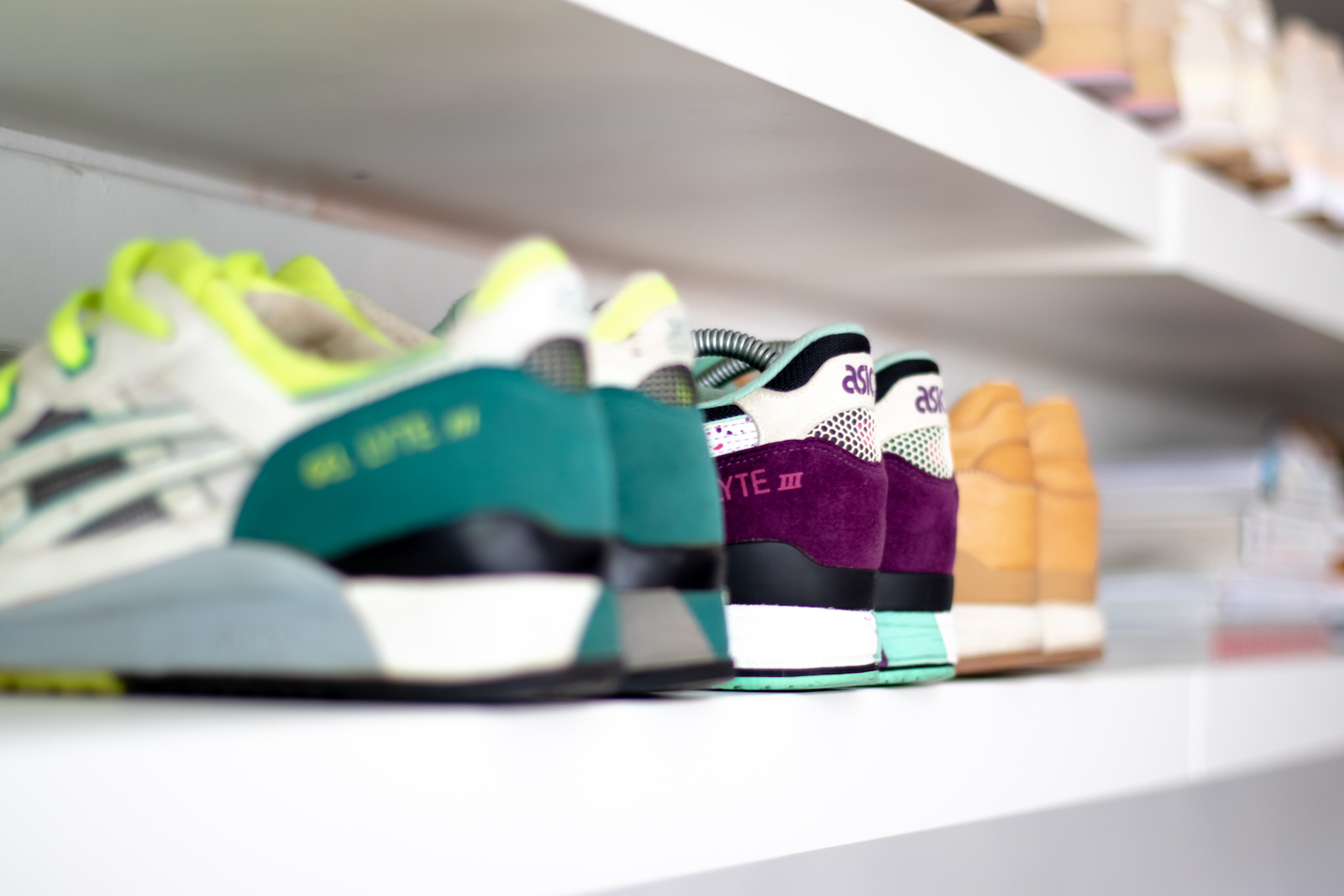 When did you start collecting sneakers and what was the pair that got you hooked?
Sneakers were booming when I grew up, especially the Nike BW "Classics" and AM1's. I literally had to beg my mom for a pair of BW "Classics" (as far as I can remember, a purple/black cw) at the age of 10. I rocked them all day everyday. At the age of 16 I started to buy more and more sneakers. In 2009 I started to develop more interest in graphic design and more specific in the combination of materials / colours / quality and sneakers. Slow but steady, I learned more and more about exclusive sneakers. Unfortunately not in time to buy the Parra x Nike Air Max 1 "Cherrywoods". Later I discovered Lee Ingram aka "Leedeville" or "Asics god", a graphic design teacher in Australia that taught his students about the combination of materials, colors and quality. The first pair of Asics in my collection was the BAIT x Asics "Basics" GEL-Lyte III "Guardian" they don't have the greatest quality on earth but the surprising combination of materials: nailhead suede, metal wire mesh, custom jaguard camo – really made this pair stand out from the crowd. 
Later on I found out that Asics is an acronym for 'Anima Sana In Corpore Sano' meaning 'a sound mind in a sound body' or 'a healthy mind in a healthy body' which I really relate to.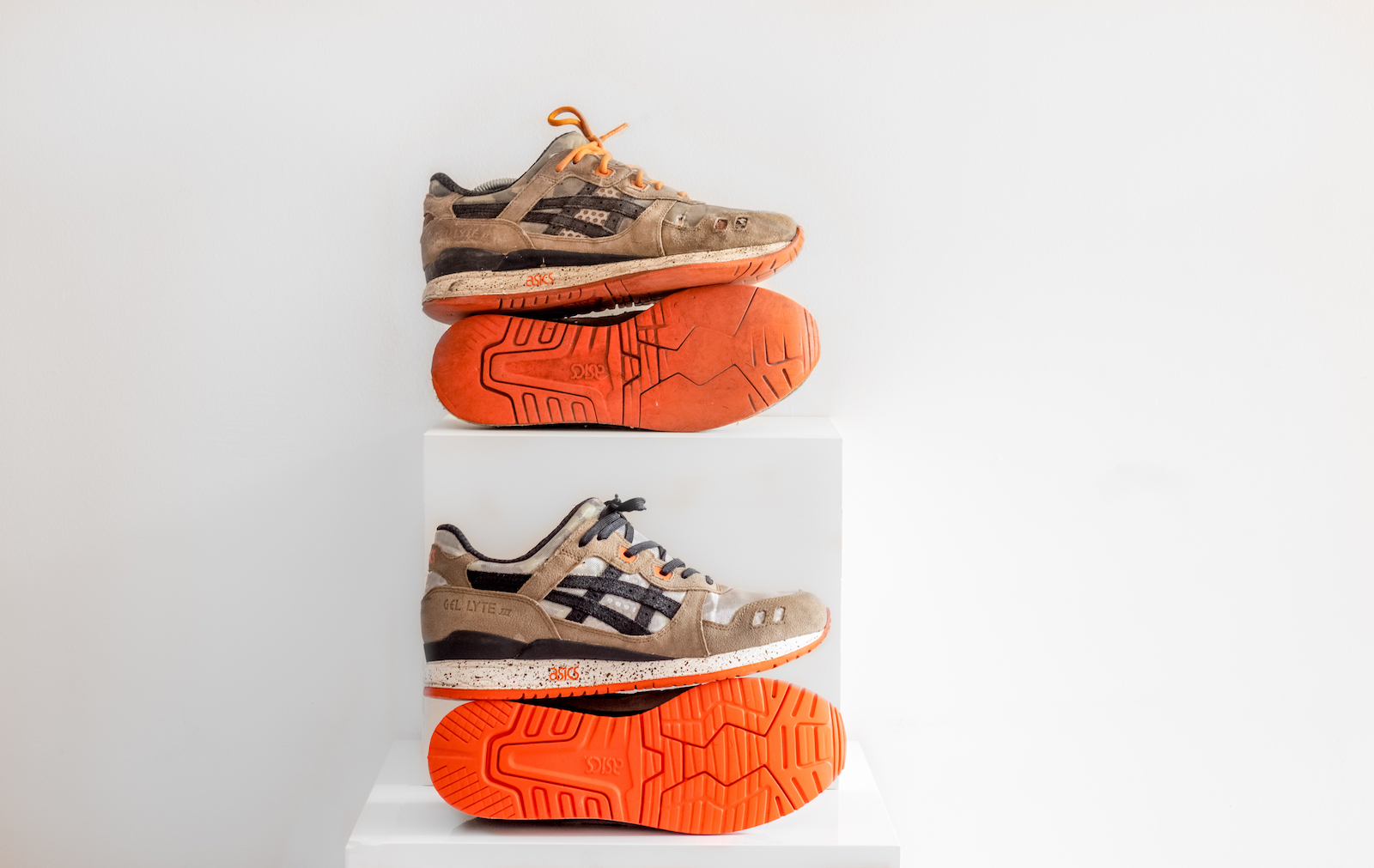 How do you store or display your sneakers?
When I moved from Amsterdam back to the south of the Netherlands; I really wanted my interior to be as clean and minimal as possible, but with a strong identity. Since I'm not sure how long I'm going to live in this house, I decided to use some basic Ikea shelves for my sneakers. As soon as I move to a different place I'm going to design my ultimate sneaker closet. On my dresser is a toddler pair for display next to a "DS" Gel Giaru pair (only dropped in Asia, in 1989). In addition I have some pairs stored in boxes.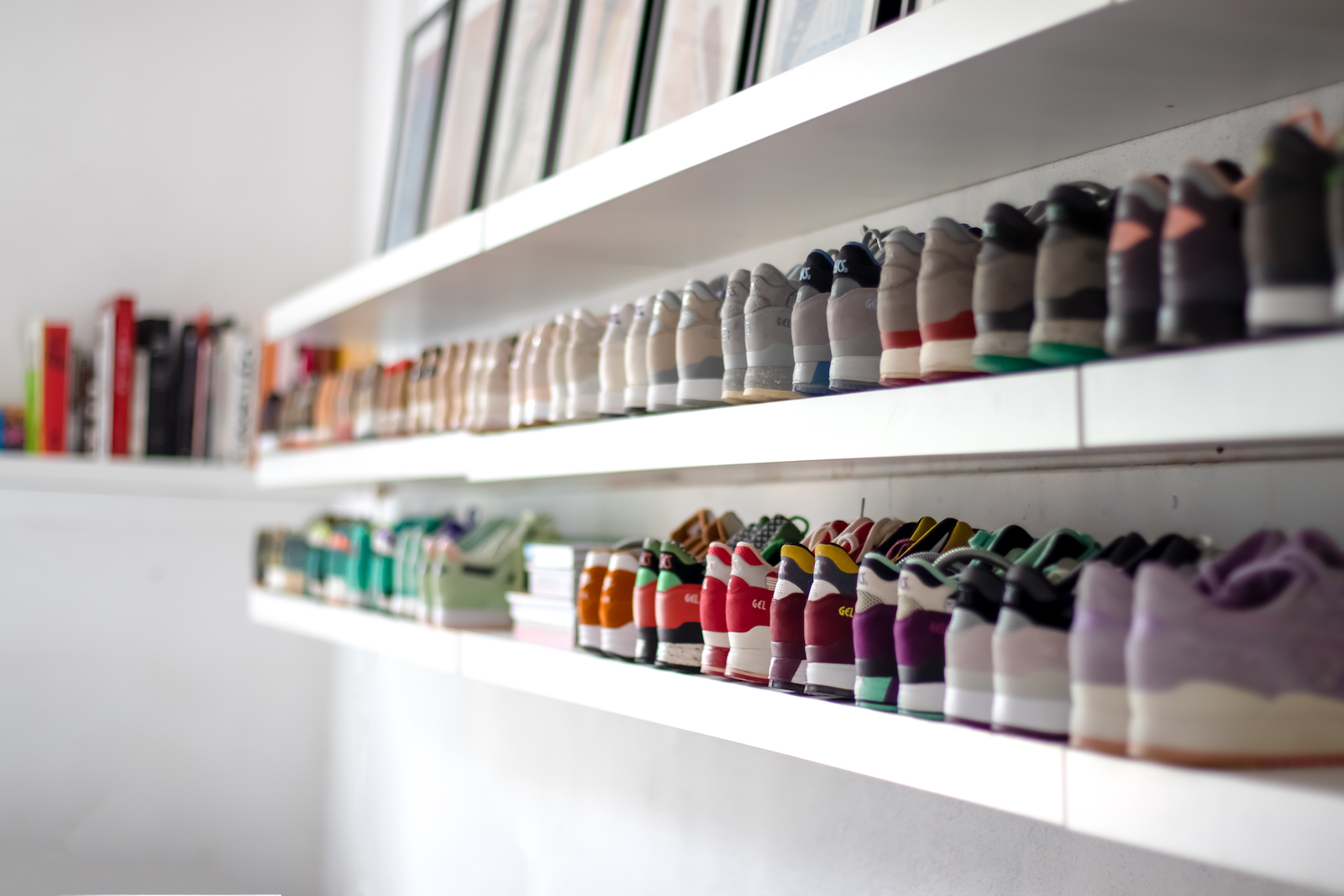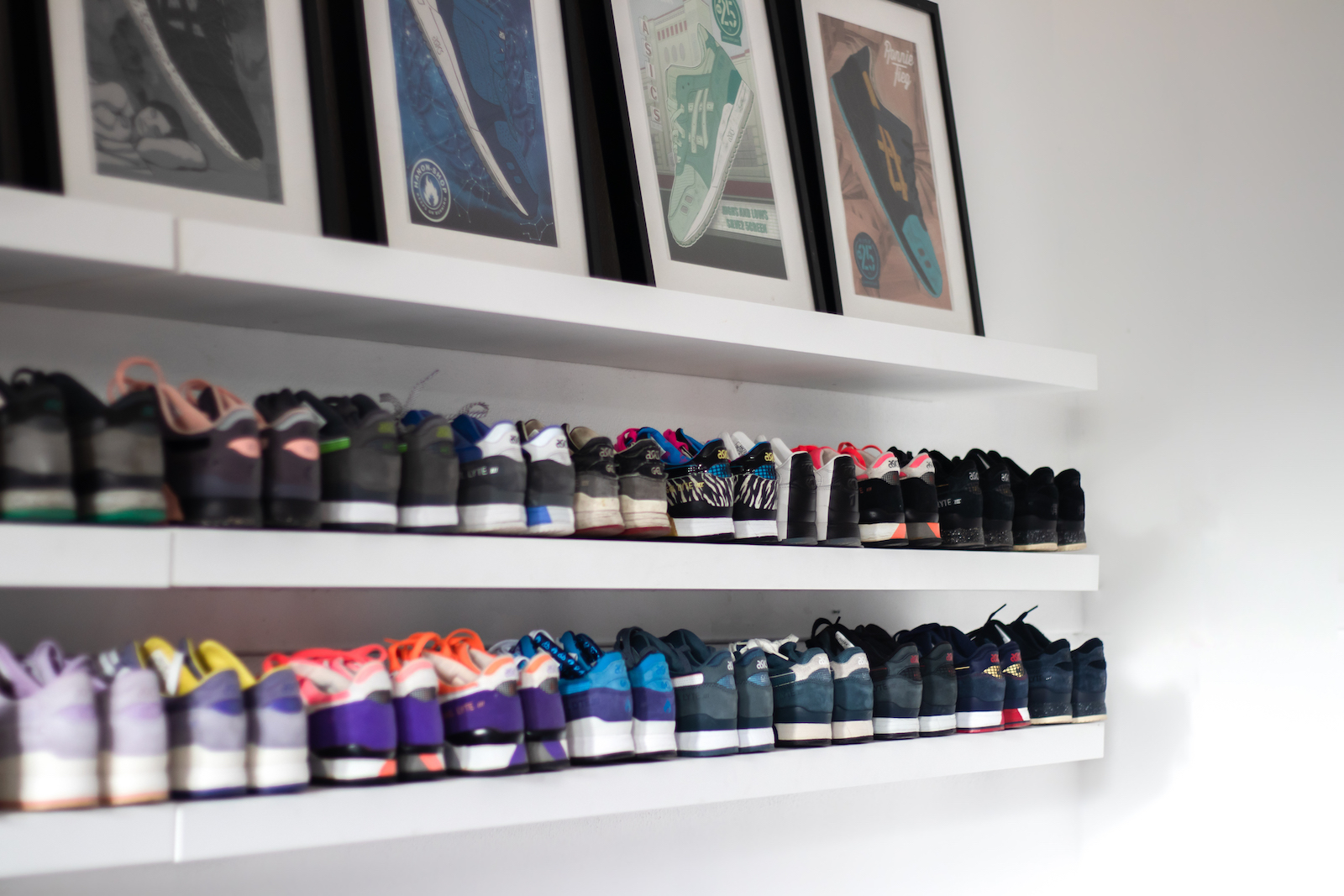 Do you have other objects or places in your house that is inspired by sneaker- or streetwear culture?
Yes! I have some bags and shirts floating around that released together with certain collabs. In addition I have all the sneaker art from Asics' 25th anniversary collabs that Lee Ingram (the design teacher I mentioned earlier) himself designed. On the other side of my room is another art poster that Lee designed; that features the first 100 collabs Asics ever did. I also have some sneaker books and books about color management and branding. Last but not least, I have some streetwear clothing and a huge amount of Stance socks that perfectly match the colorway of certain sneakers. Oh yeah, a Parra alphabet display is coming soon as well!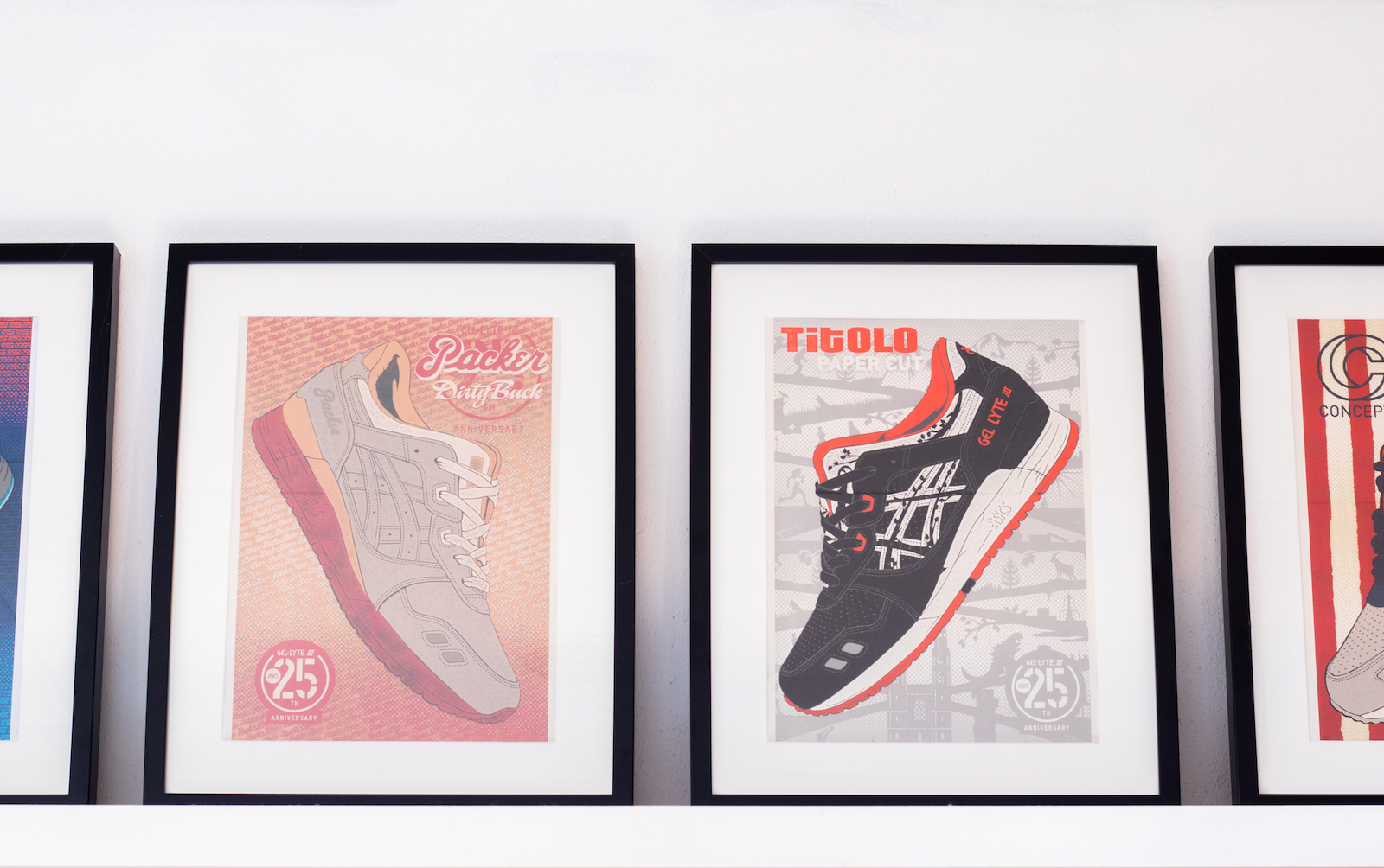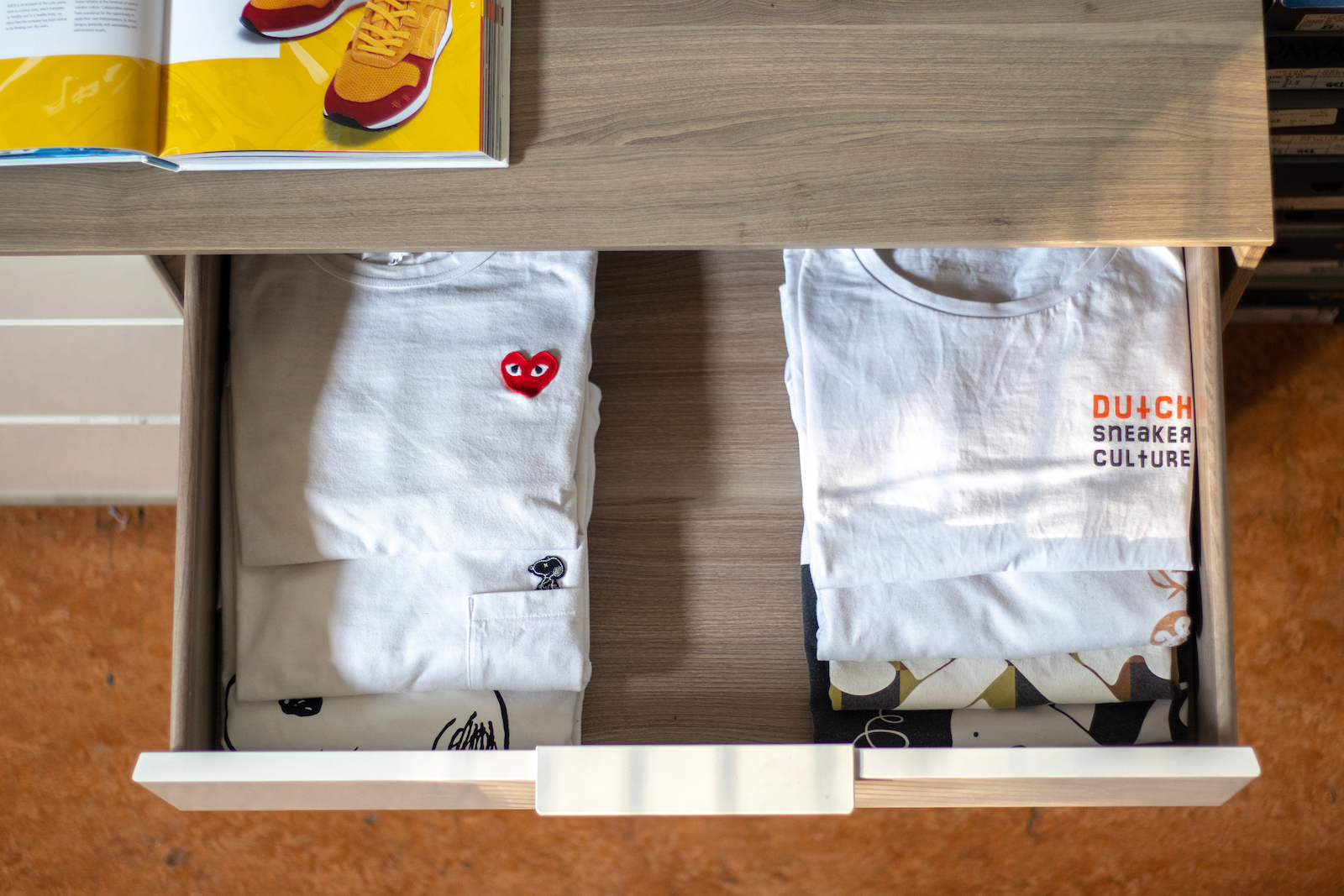 Last question: Nike or Adidas?
Nike, besides being the brand that started my sneaker addiction, the story behind the Air Max 1 and how it started is amazing. For me personally, the most fun part of designing is the conceptual part. Tinker Hatfield was the designer at Nike that introduced the air bubble unit, which was inspired by Centre Pompidou in Paris, France. After the concept was rejected multiple times it became the most successful Nike sneaker ever made!
Thanks Rik! Make sure to check out his Instagram page and give him a follow. Want to be featured in 'Inside the Collection' as well? Drop a line on this page and we will be in touch.