We are proud to announce the latest endeavors of Hyprints. To celebrate Dutch sneaker culture and to explore new applications of our artwork, we came with a brand new concept – The Hyprints Air Table 1! Nine iconic Dutch Air Max 1's reimagined as functional furniture. Read along for more information and more exciting news.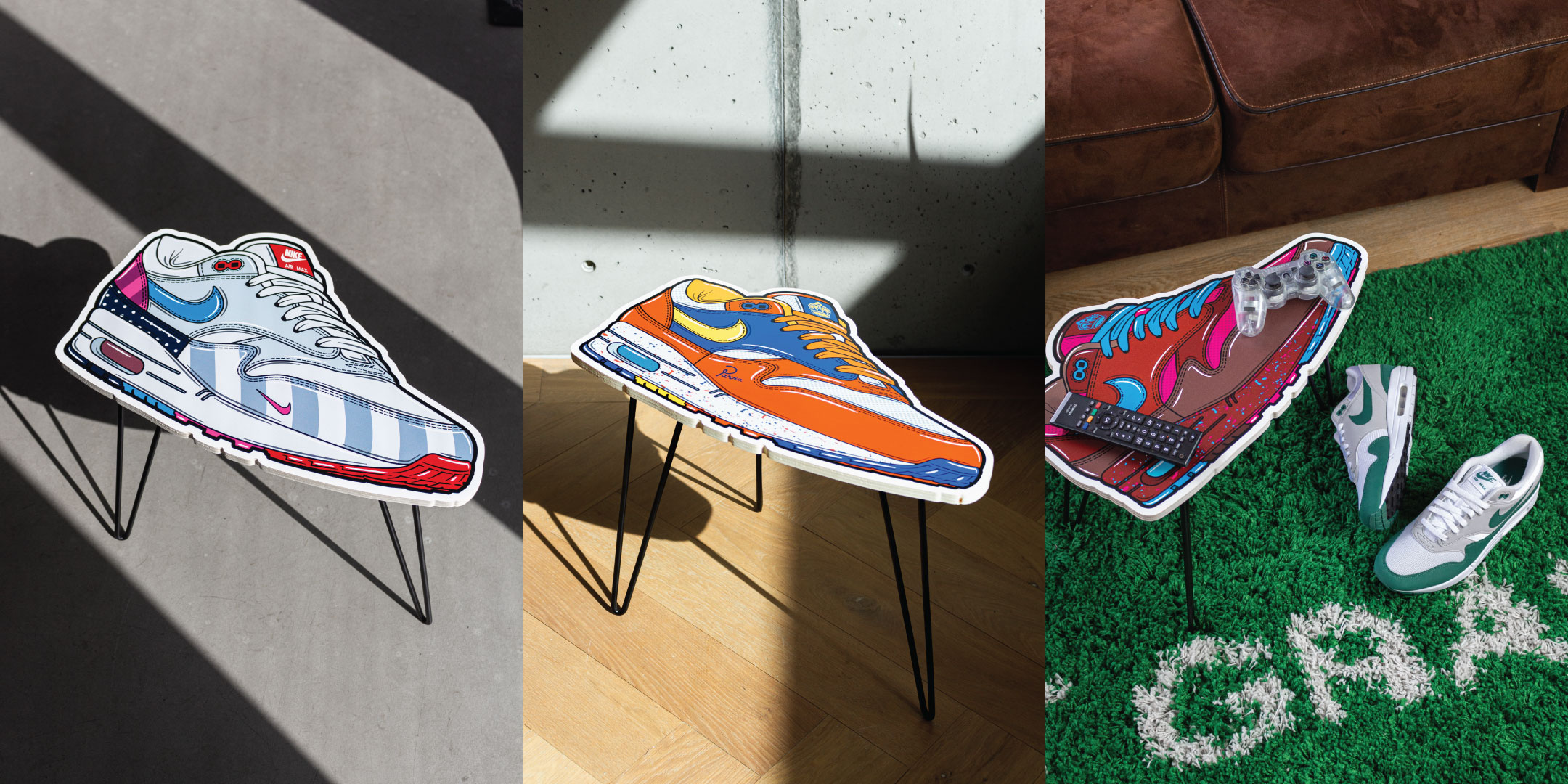 Dutch sneaker culture and Air Max 1s are inseparable, you can't talk about the first, without mentioning the latter. The Dutchies' love for Air Max's started in the early 90s, as part of the 'gabber' scene, and didn't end there. The Netherlands, to this day, remains one of the biggest consumers of Air Max sneakers in the world.
As a Dutch design studio with a sole focus on sneakers, we already paid homage to the best Air Max 1s with Dutch roots, with our 'Holland's Finest' art print from 2018. Now, two and a half years later, we wanted to build upon this celebration of Dutch sneaker culture. But this time we wanted to do it bigger and better! Moreover, we had the burning desire to expand our product line and a great aspiration to experiment with new applications of our illustrations. So, with due pride, we would like to announce three epic moves, all launching on Saturday, April 24th.
1. Hyprints Air Table 1
Hyprints presents: The Air Table 1! Illustrative sneaker art transformed into functional furniture. Nine iconic Dutch Air Max 1's, now as a side table for your interior. With these tables, we head into the direction we envisioned for our studio: exploring the fine lines between sneakers, fashion, art, home goods, and interior design. The tables are set to launch on Saturday, the 24th of April, in a limited stock of 20 tables!
2. Holland's Finest 2.0
We've updated our popular 'Holland's Finest' art print with our new Air Max 1 silhouette. This new 2.0 version differs from the original in various ways. First of all, the side view seen on the first version has been replaced by a ¾ view, giving the drawing more depth. Secondly, we made both sneakers of the pairs visible, adding to the 3-dimensional feel of the print. Lastly, we drew more details and materials, giving this print the updated Hyprints look.
3. From A3 to B2
We said we wanted to do it bigger and better right? Well, by popular demand, we are making our prints bigger! Besides the regular A3 size (420 x 297 mm) we will be offering a new B2 size (700 x 500 mm)! Starting with our updated Holland's Finest print and our Air Jordan 1 '85 collection print!