Three years ago we founded Hyprints. What started as a hobby – designing and selling sneaker-inspired printed illustrations – grew into a serious business. We launched a webshop, improved our packaging (again and again), teamed up with sneaker stores, collaborated with brands, traveled Europe for conventions, and of course, dressed up hundreds of walls with our sneaker art! One of our first prints was inspired by Brian Donnelly's creation: the KAWS Companion figure. For our 3 year anniversary, we decided to bring back the Companion print for one time only. We gave the original design a well-deserved overhaul and equipped the print with an amazing finishing touch: reflective silver foil.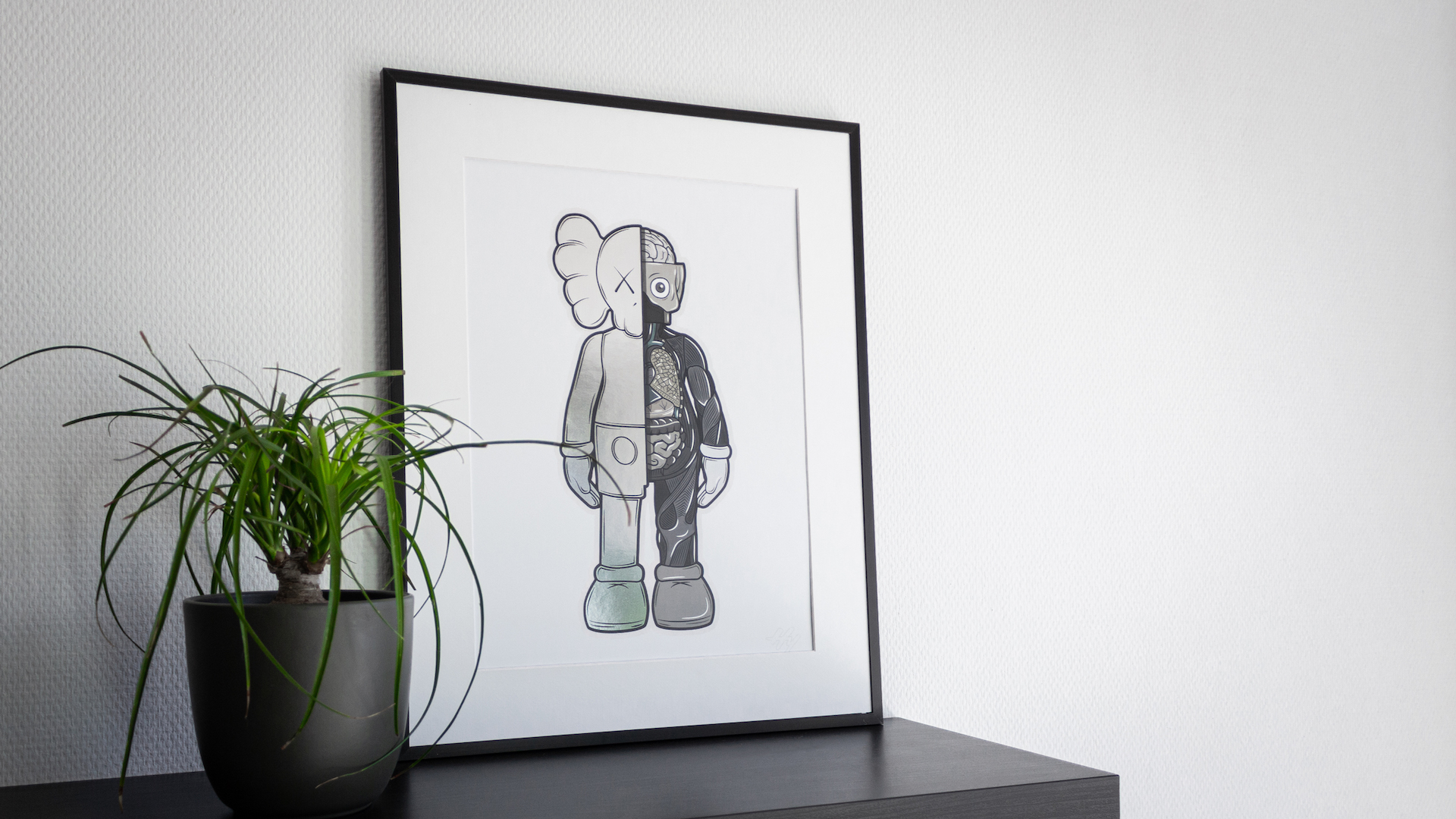 KAWS has been an inspiration to us since day one. Brian Donnelly started out with graffiti in the streets and worked his way up to the fanciest galleries in the world. We admire his creative yet commercial mindset, as KAWS produces works for both museums and your living room. Resulting in accessible art that sparks younger generations' interest in the world of art. Moreover, KAWS helped to build a bridge between fine arts and sneaker / streetwear culture, by collaborating with some of the hottest brands, like Jordan, Dior, and Uniqlo. KAWS might be best known for his creative reinterpretations of classic pop culture icons, like The Simpsons, Mickey Mouse, and Spongebob Squarepants. Something that we are trying to do as well, but with sneakers!
Our latest work is a tribute to the legendary KAWS. The limited-edition art print displays a KAWS Companion figure*, finished with a silver-colored reflective foil. The design is printed on A3 sized, 380 g/m² heavyweight white matte art paper and is limited to 100 copies, all prints are authenticated and hand-numbered on the back. Order yours now to make sure you get one!
*Hyprints and our products are not, in any way or shape, associated with the official KAWS INC. brand.